Hi! I'm still around :D
Some fun stuff:

Sneak peek of new artwork for February, done in ballpoint pen and watercolors, posted 3 days early for patrons.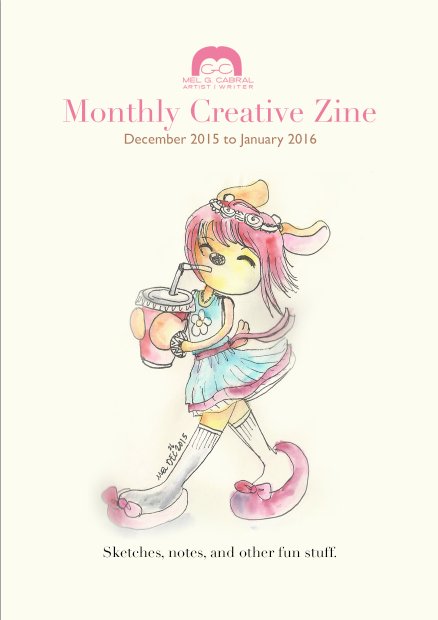 My first monthly creative zine, currently patron-exclusive! Available at the $10 reward level. :D
Currently I am trying to work on visual art again (as managing a team of writers is my current Day Hobby - yup, I'm going to use that term now to not feel too bogged down by work, dagnabbit, and also I should be working on my Creative Writing Master's Thesis :D;;;), but also delving into other media such as game-making. (Also yes I will still write stuff for myself when I can, but gahh, fingers falling off from ALL THE WORDS!)
My partner and I tried to make an RPG demo for My First Game Jam, called "Pabili Po!", which you can find screenshots and concept art for here.
Here's a screenshot, with a slipper I pixel-arted, using a sketch base by my partner:
We'd like to continue it slowly but surely, and we'll do it for the fun of it, but it definitely is a bonus for us if we can treat ourselves to drinks, snacks, and dinner, and maybe new art supplies while we're at it. :)
I am really enjoying making these behind-the-scenes posts, step-by-step posts (a couple are currently in progress, even for art I forgot to post to Patreon on time - I feel bad charging Patreons for work I did a month ago, and only forgot to scan in D:), and zines, and while I'm doing my best with what free time I have, I can afford to do more of them with your support! Or, at the very least, I won't have to be taking on freelance work when I could be giving you guys more bonus material instead. :)
Won't you consider supporting me via Patreon? :) Even a $1 goes a long way. Clickie the button to support! ♥
Thank you so much for your time, as always, dear friends. :D
P.S. For friends who would like to support but can't do so on a monthly basis, I've been considering if I can do a one-off kind of payment model. For example, maybe I can put together a sneak-peek package of the secret!art or step-by-step/behind-the-scenes posts I did, and allow people to purchase access to them on an ala carte basis. I'm considering doing it on a pay-what-you-can model instead of a fixed price, as well.
I just would like to know if my patrons wouldn't mind it - so I'm thinking maybe giving that kind of access after they've been patron-exclusive for at least 3 months? What do you all think?
* I really gotta make myself new Patreon and tip jar buttons...