Updated September 23, 2014.
Tips, donations, and signal boosts are always greatly appreciated! ♥
COMMISSIONS STATUSCOMMISSIONS ARE CURRENTLY CLOSED INDEFINITELY.
SHOPS
•
FanDomination:
Fandom merchandise made by fans for fans!
•
MelAiken RedBubble:
One of the sites where you can buy our shirt designs as print-on-demand!
We're also at
Skreened
.
Want to leave a tip instead? Click the tip jar below to leave a tip directly via PayPal! You don't need an account to do so. A debit card or credit card works just as well. :)
You can also leave a tip via
Gumroad!
You can also support me every month via Patreon!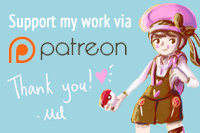 Thank you very much for your time!